Fine Fine Day was recorded in at BUS Studios, Barking Dog and Post Pro Studios. It was an amazing effort by a talented group of musicians. On drums were Bakru Hunsel, Glen Rosciano and Bobby Stewart. Bass was handled by Joel Sugarman with 12 string performed by Chopper Kovach. Buddy Black himself played the guitars and lap steel as well as singing lead vocals. Buddy also wrote everything. Matt Horton engineered the album and Adam Kasper mastered at Electric Ladyland studio. Although recorded in the south, Fine Fine Day has sprinklings of various blues styles that pay homage to the great blues artist that came before Buddy Black. Fine Fine Day features Buddy Black playing a number of vintage electric guitars.
Guitars Used on Fine Fine Day
Trini Lopez Guitars


For the most part, Buddy Black chooses to play vintage Trini Lopez Gibson guitars. You can hear their unique tone throughout the recordings. The album is available a various retail download sites.
Along with the Trini Lopez Gibson models, Buddy Black played a 1936 National New Yorker lap steel electric guitar. The age of this guitar is not apparent in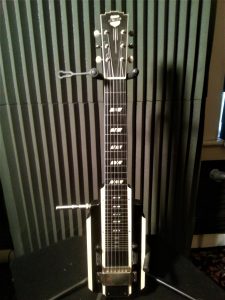 it's condition. The tone is pure and melancholic, lending an air of space to the songs that it was featured on such as Amber's Waltz and All Night Long. The lap steel was believed to be introduced to American music through the Hawaiian Islands as an integral part of the island folk music. Later on lap steel was used in Jazz recordings and Texas Swing with artists like Bob Wills and Lefty Frizell, and eventually being replaced by the pedal steel guitar used in country music today. Buddy Black utilized a variety of guitars to lay down a thick sonic bed that support his vocals. Definitely worth a listen, Fine Fine Day is a blues lover's dream.